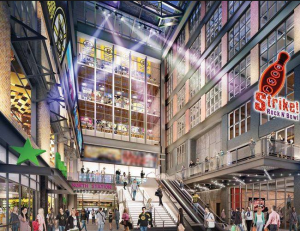 Hub on Causeway
"Developers Boston Properties and Delaware North broke ground on this humongous project slated for the old Boston Garden site along Causeway Street in January 2016. Ultimately, the development will mean more than 1.87 million square feet of shops, restaurants, offices, hotel rooms, and residences, as well as an expansion of nearby TD Garden and transit improvements to North Station. Phase I should wrap in 2018. It is due to include flourishes such as the city's largest supermarket; a 15-screen movie theater; 10,000 square feet of outdoor space for a new entrance to TD Garden and North Station; and 175,000 square feet of what the developers are calling "creative office space." Phase II, the tallest of the trio, will include a 440-unit, 38-floor, 498-foot residential tower and a 260-key, 10-floor citizen M hotel; and Phase III will be a 21-story office tower." – Curbed Boston— @ 100 Legends Way Boston, MA 02114.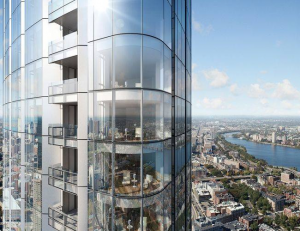 Four Seasons Hotel & Private Residences One Dalton Street
"Developer Carpenter & Company commenced construction on the 61-story, 699-foot tower in early 2015, and it will shoot past the newish Millennium Tower sometime by the end of this year to take the tallest-residential-tower crown. In fact, the Pei Cobb Freed-designed One Dalton will become the tallest tower constructed in Boston in nearly 40 years. It is due to include 180 luxury condos, plus a Four Seasons hotel (that will also service the condos). Like with Millennium, things will be on the pricey side." – Curbed Boston — at 1 Dalton St Boston, MA 02199.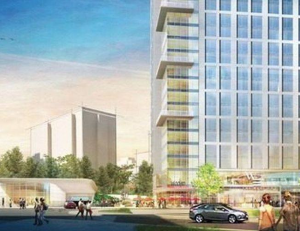 35 Lomasney Way
"The city has signed off on developer Equity Residential's plans to replace yet another garage in Boston with a 44-story, 485-foot residential building with 470 apartments and 367,000 square feet of below-grade parking with 830 spaces. Plans originally called for two towers, but those morphed following neighborhood opposition. Elkus Manfredi is handling the new design of the replacement for the four-story Garden Garage." – Curbed Boston — @ 35 Lomasney Way Boston, MA 02114.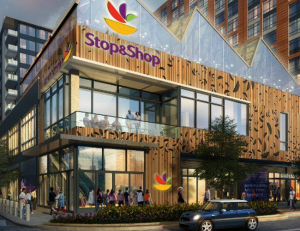 Allston Yards
"Supermarket chain Stop & Shop wants to build on an 11-acre site it owns adjacent to the ginormous Boston Landing complex. Phase 1 would include 360 residential units, 5,000 square feet of retail, 25,000 square feet of public open space, and—of course—a new Stop & Shop grocery store. (A Stop & Shop there now would stay open during construction.) Phase 2 would include 650 more units (probably apartments) and additional retail and restaurant space. Stop & Shop is also promising high-end office space in this phase. All totaled, the project would contain 1,010 new residences and 1,900,000 square feet—right near a soon-to-open commuter rail stop as well as the Mass. Pike. The city is reviewing the proposed project." – Curbed Boston— @ Everett St & Braintree St Boston, MA 02134.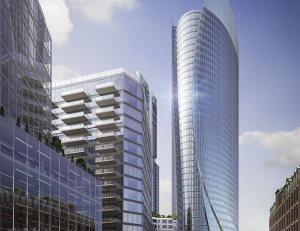 Bulfinch Crossing
"The six-building development is due to include 2.9 million square feet of offices, residences, retail, and hotel rooms total. Developers National Real Estate Advisers and the HYM Investment Group officially commenced construction in January on the first phase of the project: a 45-story, 486-unit, 480-foot residential tower. Bulfinch Crossing will also include a 43-story, 528-foot, 1 million-square-foot office tower called One Congress. Pelli Clark Pelli and CBT Architects are handling the project's design." – Curbed Boston — @ Congress St Boston, MA 02109.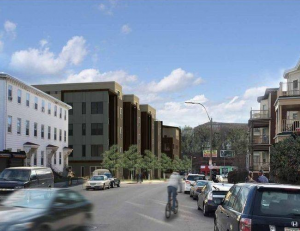 Dot Block
"The ginormous development will unfold over several buildings (more than 10, totaling nearly 400,000 square feet) and will include 362 apartments, plus retail. That retail could include a grocery store. Dot Block's developer, the Atlas Investment Group, won approval for its Rode Architects-designed plans from the city in mid-May last year. Construction could start this summer." – Curbed Boston — @ Dorchester Ave & Hancock St Boston, MA 02125.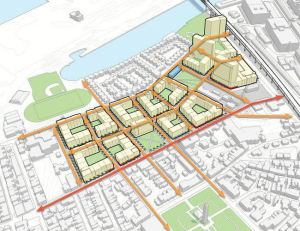 One Charlestown
"Dorchester-based developer Corcoran Jennison Associates and California outfit SunCal plan to replace the existing 1,100 affordable apartments at the New Deal-era Bunker Hill housing complex. The developers would also add 2,100 market-rate apartments as well as so-called workforce ones, which would ostensibly be within the reach of those making more reasonable (for Boston) wages. The whole shebang's been dubbed One Charlestown, with plans also for two new parks; 90,000 square feet of civic and retail space; and streetscape improvements that include better connectivity and landscaping. All totaled, we're talking 3,300,000 square feet over 24 acres. The city is reviewing the plans." – Curbed Boston— @ 55 Bunker Hill St Boston, MA 02129.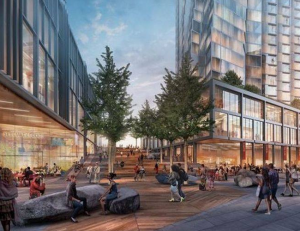 Seaport Square
"The scope of the 23-acre Seaport Square development is immense and in flux. Some of the project has already opened, including the Envoy hotel and the Watermark apartment complex. A further 12.5 acres under the auspices of WS Development is in the planning stages. Those plans include 3,200 residential units; innovation incubation space totaling 2.9 million square feet; a run of cultural and civic spaces, including galleries and parkland; and a hotel of up to 500,000 square feet." – Curbed Boston — @ Seaport Blvd & Boston Wharf Rd Boston, MA 02210.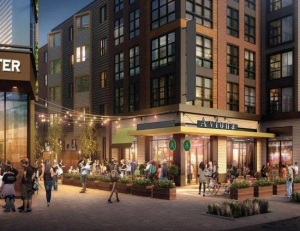 South Bay Town Center Project
"The South Carolina-based owner of the South Bay Shopping Center plans to expand it by 700,000 feet. The city signed off on the project in May and construction commenced in August. The project will add 475 apartments in a 10-acre complex also due to include restaurants, a 130-room hotel, and a 12-screen movie theater. It will ultimately involve the construction of five six-story buildings. Everything is expected to be finished by summer 2018." – Curbed Boston — @ 8 Allstate Rd Boston, MA 02125.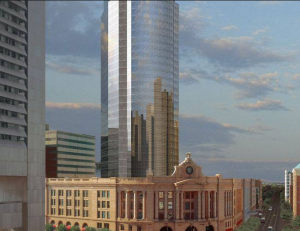 South Station Tower
"Lead developer Hines plans to start construction in the spring. The 970,000-square-foot building will start nine stories above ground, erupting glassily out of South Station, New England's busiest train hub. Higher-end office space will comprise its first 26 floors, with the top 16 stories full of 155 luxury condos with (we imagine) spectacular views of the region. A 200-room hotel is also part of the mix. The tower is due to stretch to 677 feet total and 640 feet at the highest habitable floor; and the project includes an approximately 50 percent expansion in the capacity of South Station's bus wing. Pelli Clarke Pelli Architects is handling the design." – Curbed Boston — @ 700 Atlantic Ave Boston, MA 02111.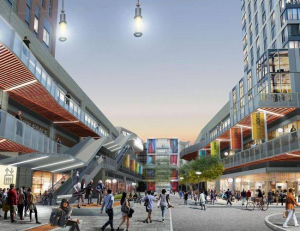 Tremont Crossing
"The city signed off in early March on this multi-building project totaling 1,928,400 square feet. The development, which includes plans for 728 apartments in two buildings, a BJ's Wholesale Club, and a new Museum of the National Center of Afro-American Artists, will be the biggest in Roxbury perhaps in decades and certainly the biggest since Boston's modern development boom kicked off post-Great Recession. Plans for Tremont Crossing stretch back to the middle of the previous decade. At different points it was supposed to be nearly all offices and offices with a sizable dormitory component. Developers Elma Lewis Partners and Feldco eventually settled on the current plans." – Curbed Boston— @ MA-28 & Ruggles St Boston, MA 02120.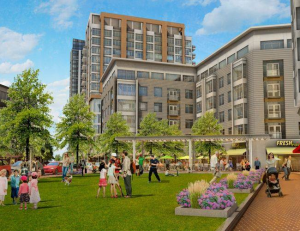 Washington Village
"The city signed off in mid-August on the nearly five-acre project. The DJ Properties development is set to include 656 apartments and condos, including 110 marketed as affordable; 99,000 square feet of retail, including (hopefully) a grocery store; 648 parking spaces, including 532 garaged; and 1.2 acres of open space as well as new streets, walkways, and plazas. The nine buildings of Washington Village, one of which is set to rise as high as 22 stories, will replace lower-slung fare such as auto shops and laundries." – Curbed Boston — at Columbus Park / Andrew Square Boston, MA.
Boston Residential / by Allen A. Garzone II